Victory for the first team at Birley
Our Gents First team played against Birley Wood last week and managed a fantastic 6-2 victory.
The scores were:
- Jon Berrisford won 2&1
- Mark Knight won 6&5
- Dave Hadwick won 2up
- Chris Hall lost 2&1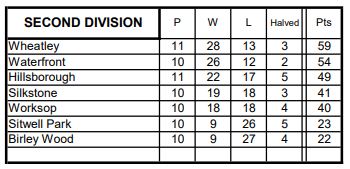 Whilst we can't be promoted we can still beat our previous years total of 50pts with a good result against Sitwell on Wednesday night. The team for that match is:
- Chris Hall
- Jon Berrisford
- Mark Knight
- Dave Hadwick
Good luck gents in what will be the final league match of the year.