Senior Team AmAm - The Results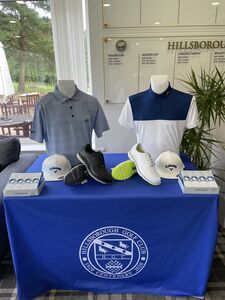 We held our Seniors Open Team AmAm event yesterday and the event was full subscribed.
Storm Agnus held off for the majority of players and the feedback from all who played was very good.

Below are the list of prize winners, all winners will have their voucher emailed to them.

1st - S.Hudson, R.Bell, K.Mills & P.Doxey with 89 Points

2nd - C.Pagden, A.Whiteley, I.Maskrey & R.Biggins with 87 points (better back 6 27pts)

3rd - G.Wilkins, C.Payne, I.Clough & K.Marsh with 87 points

4th - C.McRobbie, P.Liddle, J.Carr & N.Etheridge with 86 Points

5th - S.Clark, S.Holliday, J.Wagland & R.Wagland with 85 points (better back 9 45pts)

Nearest the pin 2nd - M.Redmore
Nearest the pin 13th - F.Marshall (Hole-In-One!!)

Thank you to everyone who took part. We look forward to seeing you again next year.